International Braille Contest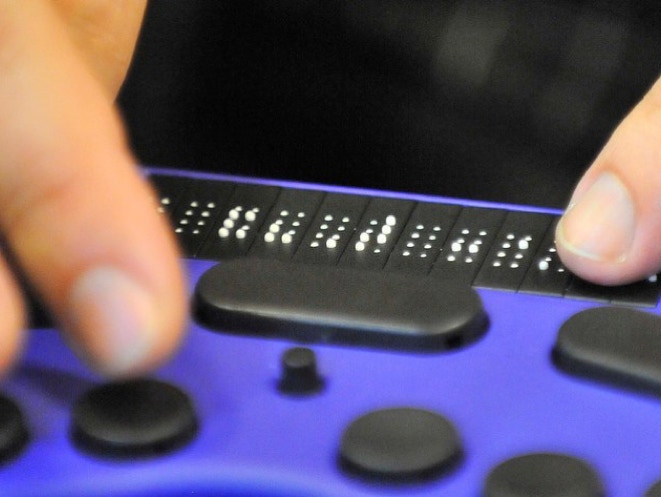 International Braille Contest took place for the first time in Prague in 2010. Since that time international participants meet regularly to decide the most proficient Braille user of electronic devices in Europe.
The contestants compete in three disciplines: editing, writing from dictation and reading. They use electronic Braillers (EasyLink 12 or BraillePen 12 and other) connected to smartphones or (earlier) PDAs (Personal Digital Assistants). The competition in 2020 attracted participants from Czech Republic, Slovakia, Hungary and Poland.
The contest is a periodic event. The editions in 2010, 2011 and 2013 gathered participants from the Czech Republic and Poland, while in 2016 contestants from Slovakia and in 2018 Hungarian participants joined as well.
The contest has become a must-attend event for many visually impaired persons. It is a meeting area for the organisers and contestants and a great opportunity to tighten the bonds of friendship, while learning new technologies and sharing experiences and visiting interesting places.
International Braille Contest 2020
The sixth edition of the Contest will be organized within the project entitled "International Braille Contest 2020 for the Visegrad blind community" and similarly to the 2016 and 2018 editions, it will be supported by the International Visegrad Fund.
The project aim is to strengthen the cooperation between NGOs from V4 countries, acting for the benefit of the blind and to create a meeting area for blind citizens of V4 countries by organizing the International Braille Contest in 2020. The contest will promote education and common use of Braille alphabet among the V4 blind community and will contribute to improving their skills of using the tactile reading and writing system with aid of novel ICT solutions.
The final event will be held in May 2020 in Budapest, Hungary. It will be preceded by national qualifying rounds organised in Poland, the Czech Republic, Slovakia and Hungary.
More information to come soon!
The Project is supported by the
International Visegrad Fund.
All information on the IVF can be found at